AUS Strategy Document and Action Plan were introduced
---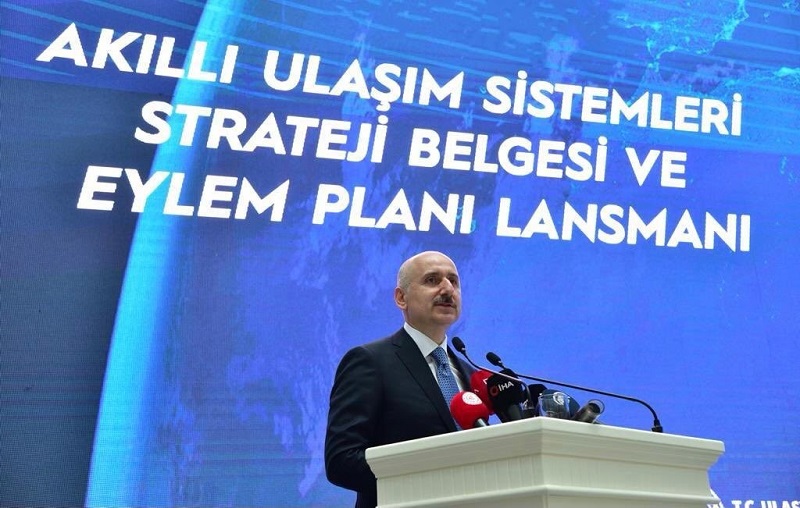 The National Smart Transportation Systems (AUS) Strategy Document and 2020-2023 Action Plan Presentation Meeting was held on September 29, with the participation of the Minister of Transport and Infrastructure, Adil Karaismailoğlu, and hosted by the Information Technologies and Communication Authority (BTK).
Speaking at the opening of the introductory meeting, Minister Karaismailoğlu noted that the monthly internet usage of fixed subscribers increased 51% and the monthly internet usage of mobile subscribers increased by 56% in the first 3 months from the beginning of the Covid-19 pandemic compared to the same period last year. In his speech, Karaismailoğlu pointed out that the world is rapidly digitalizing and that the importance of information and communication infrastructures has increased even more in the last 6 months in the pandemic conditions we are in. Emphasizing that the use of voice and video calling, distance education and remote working applications, video conference meetings, e-Health, e-Commerce and e-Government applications has become widespread significantly, Karaismailoğlu emphasized that social and economic life has become more dependent on information and communication infrastructures, Karaismailoğlu stated that: "With our strong communication infrastructure, our operators continue to provide uninterrupted communication to our citizens by meeting all traffic increases. On the other hand, we also produce solutions for the increasing compulsory communication needs of our citizens. As UAB, we support our students' distance education processes. We will continue to provide free internet packages to our students as long as needed thanks to these works we have carried out with Türk Telekom, Turkcell and Vodafone. In addition, in order to ensure the continuity of the critical infrastructures, including education, health, banking and energy, in the information and communication infrastructure during the pandemic period, we instantly monitor the traffic through the National Cyber Incident Response Center (USOM) under BTK.
AUS provides versatile data exchange
Minister Adil Karaismailoğlu shared the following about the "Smart Transportation Systems Strategy Document and Action Plan" prepared under the coordination of the Ministry: "We will go to a total mobilization throughout the country with all our institutions in order to equip our country's roads with smart transportation systems suitable for our era. Parallel to globalization and technological developments, investments in transportation and communication services are the driving force of economic development and an important indicator of prosperity. This situation requires having a dynamic infrastructure that can be integrated into a future where digitalization is widespread in every field and respond to today's needs. In this context, we carry out all of our transportation and communication infrastructure works with long-term planning and calculations. We act with the vision of creating a smart transportation network that is integrated with all transportation modes in our country, uses up-to-date technology, benefits from domestic and national resources, which is efficient, safe, effective, environmentally friendly, sustainable and value-adding." AUS provides versatile data exchange between user-vehicle-infrastructure-center developed for the purposes such as reducing travel times, increasing traffic safety, using existing road capacities effectively and efficiently, increasing mobility and ensuring energy efficiency. Systems include monitoring, measurement, analysis and control mechanisms. The AUS Mobility Center is also established to collect real-time data, make transportation analyzes, generate instantaneous traffic density and flow data and make predictions.
The goal is to increase the quality of life in the city
The Mobility Systems Research Center is established between the Ministry of Transport and Infrastructure and Yıldız Technical University. The protocol of the center to be established in order to increase national mobility was signed at the meeting held at Yıldız Technical University Davutpaşa Campus on October 5. Minister of Transport and Infrastructure Adil Karaismailoğlu said that they have started to work on creating an action plan for this area in order to create a more holistic vision in urban and inter-city transportation planning, service delivery, regulations and accessibility. Minister Karaismailoğlu continued as the following:
"With this collaboration, scientific studies will be conducted on mobility systems that change the face of transportation in our cities and become an element that differentiates people's mobility behaviors at urban and national levels. We aim to carry out the R&D and engineering activities necessary for the establishment of an environmentally friendly, efficient, sustainable and accessible mobility system at the national level and to produce domestic and national design projects. Research, development, design and accessibility projects will be carried out to improve accessibility in transportation in order to increase the quality of life of our citizens with limited mobility and make their lives easier."
---