BIOSENS from NANOBİZ for Covid-19
---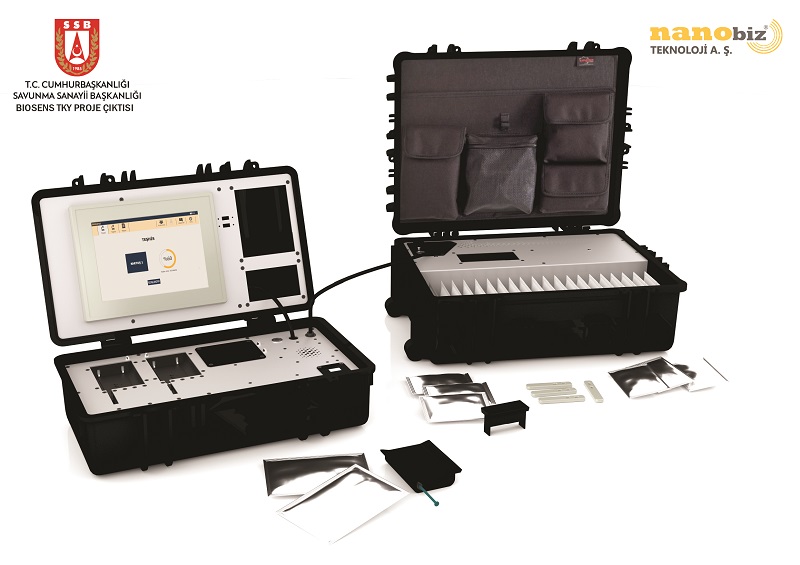 "BIOSENS- Biological Warfare Detection and Identification System", which was supported by the Presidency Defense Industry Directorate (SSB) as a "Technology Acquisition Project", was developed by NANOBİZ Technology, one of the METU Techno-city companies. NANOBİZ company continues its efforts to make the diagnosis of the Covid-19 virus nationally and domestically by using this system.
As a result of R&D studies carried out by NANOBİZ since 2017, the BIOSENS platform was developed in the form of a portable bag sized laboratory. The system reached the ability to carry out ELISA and PCR reactions simultaneously in the field. With the LAMP4U kits, which is a high sensitivity molecular test developed with domestic and national facilities, the diagnosis of Covid-19 can be made quickly on the field. The system, which will work with samples taken directly from the patient, will be able to record the result of the test instantly via mobile phones.
After the appearance of the new coronavirus (Covid-19) in our country, the Presidential Defense Industry President Prof. İsmail Demir made calls and interviews with the defense industry sector and defense industry companies accelerated their efforts to contribute to the health sector. The NANOBİZ R&D Team, led by METU Biological Sciences Department Prof. Hüseyin Avni Öktem, has accelerated its adaptation studies to make the molecular diagnosis of the Covid-19 virus with high accuracy, primarily for the BIOSENS System they developed for use in the defense industry. It was observed that LAMP4U Covid-19 molecular diagnostic kits developed in this context were able to produce high accuracy in 60 minutes in samples taken from the patient without requiring long and difficult sample preparation. It is considered that BOISENS System will provide cost advantage as a domestic and national solution with the ability to perform the test in the field, reduce the PCR test process taking 3-4 hours with sample preparation to approximately 60 minutes and provides quick use after a short user training.
Mass production for BIOSENS starts
Prof. İsmail Demir stated that: "In order to carry our experience in the defense industry to the health field and realize the national technology move in this field, we continue our studies with our companies under the coordination of our Presidency. We expect the BIOSENS system, which provides healthy results in the laboratory environment, to go into mass production in a short time after the test process in the application area. I believe that the BIOSENS system will be a great convenience for our healthcare professionals in diagnosing Covid-19. I congratulate NANOBİZ for developing this system with domestic and national facilities."
---