'Digital' means using the limited resource in the most efficient way
Tarafından 28 Aralık 2020
---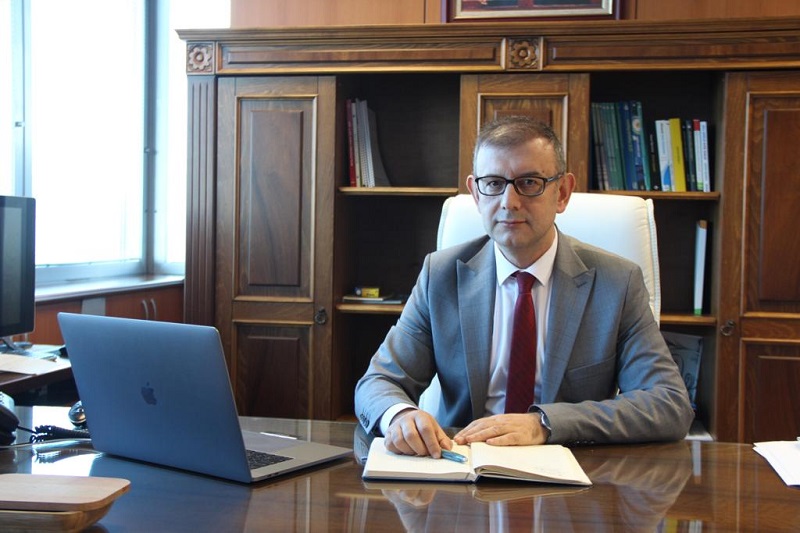 It is now inevitable that water, the most fundamental resource of life, meets technology. Smart water management, on the other hand, includes providing services within the framework of smart municipality perception with smart energy, smart environment, smart HR, smart work security, smart infrastructure, smart communication methods and all the systems that monitor, direct and report water at every step. At this point, İSKİ Information Technologies Department Head Tayfun İşbilen aims at end-to-end 'smart' automation, machine intelligence, big data management, increasing the quality of drinking water and wastewater, reducing the amount of water usage with smart pressure management, starting and ending water with smart water management. It is defined as reducing the rate of loss / leakage, decreasing the ratio of energy in water cost, decreasing total expenses and increasing the service quality. Tayfun İşbilen gave information about the applications they developed with their own resources in order to achieve the goals in smart water management.
The aim should be a holistic transformation
KUVARS (Corporate Asset Management) is a management system that aims to analyze the costs, risks, opportunities and performances of an organization's assets with the right approach, planning and practices and to obtain maximum benefit from them. İSKİ Water Data Analytics (İSVA) is defined as analyzing the existing system and data types with artificial intelligence and machine learning, processing methods and setting up databases, implementing algorithms used in analysis methods and connecting big data in real time. Tayfun İşbilen said that: "Our goal by realizing all these is affordability, improvement of subscriber experience, protection of the natural environment, reduction of operating and maintenance costs, increase of investment efficiency, efficient use of workforce, increasing İSKİ's brand value and recognition worldwide." Tayfun İşbilen explained why this transformation is needed as:
The whole team evolves with open source
"The primary reasons are that the support of the used technologies will end and the existing software is not web-based and mobile compatible. Creating user friendly interfaces is also a prominent need. With digital transformation, we first aim to transfer the corporate software development infrastructure and architecture to current technologies and to bring modern software development standards to the organization.
Emphasizing that they benefit from the advantages of open source applications as İSKİ, Tayfun İşbilen listed the benefits of open source software as:
"Global communities that come together to develop solutions are bringing out new concepts and capabilities faster, better and more effectively than internal teams working on proprietary solutions. The collective strength of a community of talented individuals enables faster development and troubleshooting only when problems arise. Open source code means not only gaining full visibility into the codebase, but also having all the discussion about how the community develops features and handles errors. With open source, you are protected against lockdown risks and you can see exactly what you get. With a worldwide community supporting a code base rather than a team within a company, code is developed on online forums and led by experts. Open source code is currently powering about 90% of the internet and is therefore rapidly adopting among large businesses."
Trainings and contents are in digital
In parallel with these benefits, İSKİ conducts development and improvement studies on many applications with the open source applications community. The first of these, the Pardus Project, is based on the operating system that has been expanding since 2009. Tayfun İşbilen, who gave the information that: "As of 2020, it is installed on 2 thousand 200 computers and this number corresponds to 33% of the computers in our institution." İşbilen added that: "The license costs are reduced with the use of the Pardus operating system. In this way, we have achieved a significant amount of savings on an annual basis."
Another open source study shared by İşbilen is the Moodle Project, named after a dynamic distance education system. Tayfun İşbilen stated that: "As the İSKİ Information Technologies Department, we attach importance to the trainings aimed at increasing the knowledge of our colleagues." He also expressed that with the İSKİ Distance Education Platform, which is an open source application launched in April 2020, at the link https://moodle.iski.gov.tr/, many trainings have been organized.
Another open source study carried out at İSKİ is the online learning experience presentation with BigBlueButton, a web conference system. Public and private conversations can be made in the classes opened on BigBlueButton and the training documents can be shared with the class. "BigBlueButton supports the presentation of PDF documents and Microsoft Office documents prepared for distance education. Additionally, users can enter the conference in one of two roles: viewer or moderator. As the viewer, the user can participate in the audio conference, share the webcam, chat with others. The pandemic showed how important distance education is. In parallel with this fact, İSKİ Webinar, an open source application, was implemented. We aimed to increase the knowledge of our teammates by providing many online training through our İSKİ Webinar application." İşbilen said that they also integrated the İSKİ Distance Learning Platform and the İSKİ Webinar application and published the live trainings on the training platform. Tayfun İşbilen emphasized that: "Thus, our teammates will be able to access the trainings at any time and refresh their knowledge via the link https://webinar.iski.gov.tr/." and explained the Nextcloud Project as:
Build your storage system on your own!
"Nextcloud is a free and open source software that offers the possibility to create a file hosting / storage service on any server. All users can have a ready-to-use cloud storage area that they can manage and synchronize from mobile and PC platforms by installing Nextcloud on their own servers. The most important difference of Nextcloud is that you create your own storage system. If you feel the need for a cloud server to store your data but do not rely on other storage services, you can create your own server using the Nextcloud software package. In this way, you can eliminate the possibility of your data being shared with third parties. Also, unlike popular cloud services, when you become a Nextcloud user, you have full access and authority over your server and files. As İSKİ Information Technologies Department, we implemented the Cloud İSKİ Project in order to store corporate and personal data and to facilitate file sharing within the organization. Thanks to the 10GB of storage space we provide to users, users can store their data easily and securely. The Cloud İSKİ Application, accessible from the link https://bulut.iski.istanbul/, can also be used on smart devices with Android and iOS operating systems."
---