---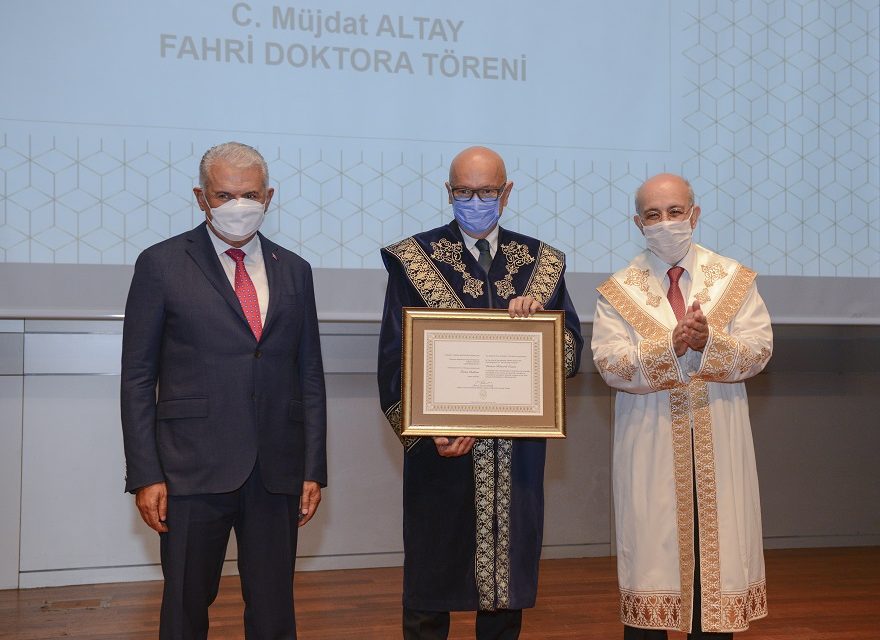 Graduated as a class of 1975 in İTÜ Electronics and Communications Engineering, Netaş CEO Cemil Müjdat Altay received the Honorary Doctor title from İTÜ Senate due to the contribution Altay has made to the Turkey's electronics and information technology.
Preparing to celebrate its 250th anniversary in the 100th year of the Republic, İTÜ gives the title of "honorary doctor" to those with distinguished services and contributors to the development of science, technology, art, culture and social life.
At the ceremony held at the Süleyman Demirel Cultural Center in İTÜ Ayazağa Campus, 28th Term Parliament Speaker and Izmir Deputy, the last Prime Minister Binali Yıldırım presented his honorary doctorate diploma to Altay and İTÜ Rector Dr. Mehmet Karaca dressed him his doctorate gown.
Müjdat Altay said in a statement that: "My childhood dream was to study at İstanbul Technical University. My dream came true. İTÜ gave us a lot. First of all, it gave us nationality and self-confidence, placed the feeling that we can do anything in our hearts and above all it became our root. When I finished my military service, I wanted to develop new products with the values I received from İTÜ, to make R&D and to be more useful to my country. In those days, having Turkey's only private R&D, Netaş was the platforms I was looking for. In Netaş, which I started in 1981, my focus was domestic production. As the Netaş family, we are proud to have done Turkey's first software exports, to provide our country Center of Excellence with up to 1000 persons, being one of the founders of ULAK, making Turkey one of the first 4 countries connecting to 4g with its own technology in the world, realizing digital transformation projects in finance, sports, entertainment, defense industry, transportation, health, education, public and private sector organizations that are vital for our economy and present those to the service of our country. Looking back today, with the knowledge we have developed in our country as Netaş, I have the peace of mind of saving more than 4 billion USD and training thousands of engineers. For 16 years, we have done very valuable work with my team, which I am honored to lead and our first priority was to benefit our country while doing our jobs."
---