SAHA EXPO aims to move the power of the defense industry to the virtual world
---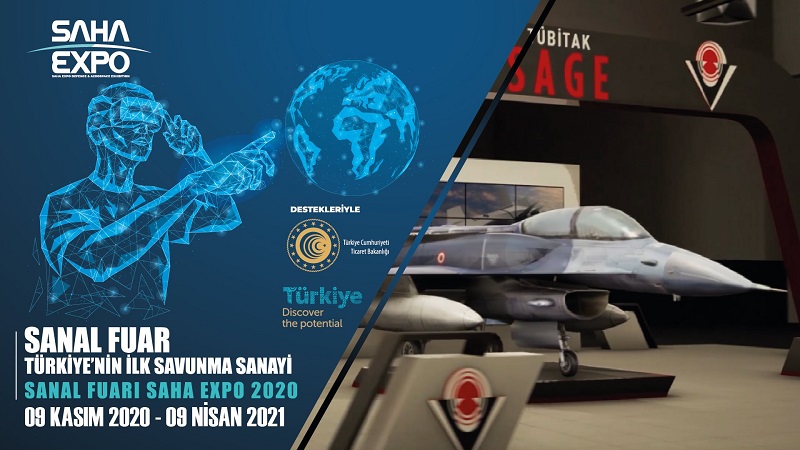 SAHA EXPO, the world's first 3D Virtual Defense Industry Exhibition started on November 9. The exhibition will run until April 9, 2021. SAHA EXPO, which can be visited 24/7 from all over the world, is waiting for their visitors from around the world with the products and systems they have developed by hundreds of companies in the Turkish defense industry such as the Akıncı Offensive Unmanned Aerial Vehicle (TİHA), ATAK Helicopter, TB2 and missile systems.
SAHA EXPO Virtual Exhibition will be held online with the participation of more than 300 companies including ASELSAN, ROKETSAN, HAVELSAN, BAYKAR, FNSS, STM, Kale Aviation, Altınay Aviation of the Turkish defense industry. Trade Minister Ruhsar Pekcan, Industry and Technology Minister Mustafa Varank, Defense Industry President İsmail Demir, Industry and Technology Deputy Minister Hasan Büyükdede, SAHA İstanbul Chairperson Haluk Bayraktar and SAHA İstanbul Secretary General İlhami Keleş attended the opening of the exhibition via videoconferencing. It was a live broadcast live on social media accounts. Pekcan emphasized the following points by making the assessment that "With virtual exhibitions, we not only exhibit our products, but also the digital infrastructure, digital aptitude and technological capacity in our country to foreign buyers. We anticipate that we can continue virtual exhibitions as part of our new normal after the pandemic. This situation is in line with the progress our country has shown in technology and digitalization in recent years."
Defense industry is a very good example
"Thanks to this virtual exhibition; we actually open up the capabilities we have in the sector to the whole world with 3D modeling and interactive animations. Despite the pandemic, the Turkish defense industry did not slow down. SAHA İstanbul brings together 551 companies under the same roof, which include almost all of the defense industry, combines their capabilities and helps these companies complement each other instead of competing with each other. Thanks to SAHA İstanbul; the public-private sector and the university do not only work together, they also develop projects to work together. In the last 8 years, we have given incentive certificates to 421 projects with a total investment of 13 billion TL in the field of defense. The defense industry is a very good example for us. Based on this, we started to apply the concept of National Technology Move in all our policies."
If your industrial ecosystem is not strong, you cannot talk about a strong defense industry.
Underlining that Defense and Aerospace Cluster Association (SAHA İstanbul) studies are of great importance for Turkey, Demir stated that: "If your industrial ecosystem is not a strong, you cannot talk about a strong defense industry. Therefore, it is vital that the SAHA İstanbul cluster exists and the existing industrial and technology infrastructure in that region is directed to the defense industry." Demir added that "Turkey is now self-sufficient with its defense industry that can compete with the world, however it is not enough. We are working day and night to achieve more." Büyükdede said: "Our companies have become more familiar with the defense industry in material technologies, land vehicles, aircraft and unmanned aerial vehicles, ship and submarine technologies and weapons industry, a sub-cluster has been created for every subject and partnerships have been established. Doing business for the defense industry has become a sector for our business world." Bayraktar expressed that: "With the efforts put into this field in a short time with the vision of 'National Technology Move', our country has become a country that sets the doctrine with the technologies it has developed in the world war history."
---