---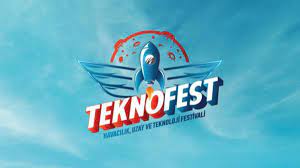 Technology competitions organized within the scope of TEKNOFEST Aviation, Space and Technology Festival attract great attention from young people this year, as every year. The deadline for applications from abroad has been extended for competitions, which are in high demand from abroad as well as from our country's youth. The extended application period for 16 different competitions will end on March 31. All technology-savvy young people from abroad, including primary school, secondary school, high school, university and above, and graduates, can participate in the competitions.
Young people who take science and technology as their guide and produce the technologies of the future from all over Turkey and young people who participate in competitions from abroad come together under the roof of TEKNOFEST. At TEKNOFEST, where the participation in the competitions increased again this year, the application dates of certain competitions were extended upon the high demand from abroad.
Young people who want to participate in the competitions from abroad will be able to apply until March 31, 2022. Young people will be able to access detailed information about technology competitions on the teknofest.org website.
In order to support the projects of thousands of young people working in these fields with the aim of increasing the interest of young people in the production and development of national technology, material support of more than 12 million TL this year will be given to the teams that passed the pre-selection stage and more than 6 million TL to the teams that competed in TEKNOFEST and won a place.
Competitions whose application deadline has been extended to March 31
Rocket Competition
Unmanned Underwater Systems Competition
Artificial Intelligence in Health Contest
Flying Car Contest
Technology Contest for the Benefit of Humanity
Educational Technologies Competition
Barrier-Free Living Technologies Competition
Smart Transportation Competition
Biotechnology Innovation Competition
Environment and Energy Technologies Competition
Agricultural Technologies Competition
Digital Technologies in Industry Competition
Tourism Technologies Competition
World Drone Cup
Pardus 21 Error Catching and Suggestion Contest
Robotics Competitions
TEKNOFEST Aviation, Space and Technology Festival, organized by the Turkish Technology Team Foundation and the Ministry of Industry and Technology, with the support of Turkey's leading technology companies, public, media organizations and universities, will be held in Samsun, Çarşamba Airport between 30 August-4 September 2022 and it will bring together the youth of the world.
---
Şunlar da hoşunuza gidebilir