'1 Million Software Developer Project' is expanding in Eastern cities
---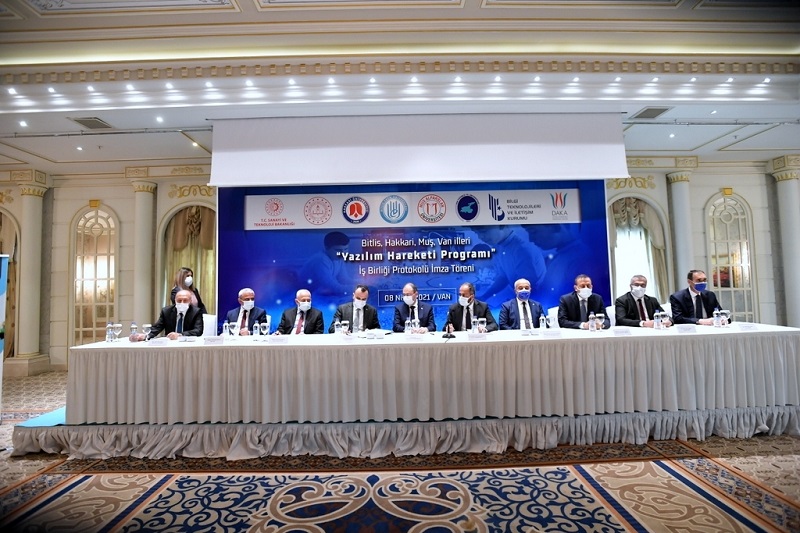 With the participation of Information Technologies and Communication Authority (BTK), Eastern Anatolia Development Agency (DAKA) and National Education Directorates and universities of Van, Hakkari, Muş and Bitlis, a protocol for expanding '1 Million Software Developers Program' in TRB2 cities was signed on April 10 in Van. BTK President Ömer Abdullah Karagözoğlu stated that their aim is reaching a point that there is no one who does not know software in our country.
In regions where industrial development is relatively low compared to other cities, the '1 Million Software Developers Program' initiated by the BTK to minimize regional inequality by improving the skills of our young population in the field of Information Technologies will be expanded with the contributions of the Eastern Anatolia Development Agency. In his speech at the protocol ceremony, BTK President Ömer Abdullah Karagözoğlu defined the software industry as a mine waiting to be processed and said: "In order to become a software producing country, we need to undertake projects that will enable us to develop in the long term, as well as training our children at an early age. What makes the software industry important in today's world is that all other industries need software. Today, you need software to build a computer, as well as to build a car. Even small tradespeople develop their own applications and sell them thanks to the software. Companies that want to compete globally and develop innovative applications are doomed to stay where they are and not grow without the support of the software industry. In short, we can define the software as the locomotive of other sectors."
Karagözoğlu explained the steps to be taken within the scope of the signed protocol as: "With the '1 Million Software Developers Project', which we aim to expand to the Eastern cities, student clubs will be established in the field of software in pilot high schools affiliated with regional universities and national education directorates and these students will be trained by the instructors recommended by the BTK. BTK will provide 6 GB free internet package support to students studying on this subject. Our aim is reaching a point that there is no one who does not know software in our country. Just as we teach the alphabet to our children when we start primary school, we have to teach software to be able to read today's world." Expressing that software has gained great importance all over the world, Karagözoğlu emphasized the importance of being domestic and national.
Van Technocity is making a serious breakthrough
Speaking at the ceremony, DAKA Secretary General Halil İbrahim Güray said that: "Thanks to this protocol, we will take a step to improve the capacity of our young people in the field of software, especially in the cities of Van, Bitlis, Hakkari and Muş, which constitute the region with the youngest population in our country." Van National Education Director Hasan Tevke underlined that 6,500 of the 10 thousand applications were in the Van region at the TÜBİTAK competitions and stated that: "We would like to arouse scientific curiosity in as many children as possible. We will do a good job here."
Van Yüzüncü Yıl University Rector Prof. Dr. Hamdullah Şevli said that: "As Van Yüzüncü Yıl University, we are proud to be a stakeholder of such an important project with our Rectors of Bitlis Eren University, Hakkari University and Muş Alparslan University. One of the main aims of this cooperation protocol is to raise qualified young people through the creation and development of cooperation networks and common areas of use that will enable our region to rank at the top of the global value chain with high value added products and services, which will increase innovation activities, enable information generation and develop entrepreneurship based on them. It is the mathematical, analytical and algorithmic thinking that we must give to the students. There is a need for a model and a system that will pave the way for students with high level mathematics proficiency to receive a more qualified education in the field of computer science as well as mathematics. If we create the infrastructure of such a study together with our science and art centers, science high schools, directorates of national education and 4 universities here; we can train potential students for the BTK Academy. Van, Bitlis, Hakkari and Muş cities will easily provide this potential with their highly intelligent young population."
Prof. Dr. Şevli pointed out that Van Technocity, which is within the university, made very serious breakthroughs this year and gave information about the work of Van Technocity. Bitlis Eren University Rector Prof. Dr. Necmettin Elmastaş, Hakkari University Rector Prof. Dr. Ömer Pakiş, Muş Alparslan University Rector Prof. Dr. Fethi Ahmet Polat, Bitlis National Education Director Mehmet Emin Korkmaz, Hakkari National Education Director Bilal Gür and Muş National Education Director Enver Kıvanç attended the meeting.
---