Advantages meet in the incubation center
---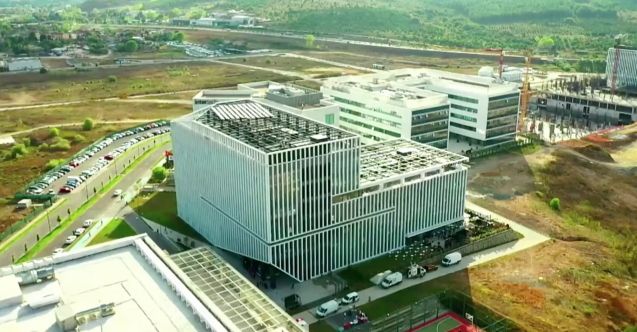 Teknopark İstanbul launched its 10 thousand m2 giant startup center built for Cube Incubation. Presidency Defense Industry President Prof. İsmail Demir, Deputy Minister of Industry and Technology Mehmet Fatih Kacır, İTO President and Teknopark İstanbul Deputy Chairperson Şekib Avdagiç, Teknopark İstanbul Chairperson Prof. Metin Yerebakan, Teknopark İstanbul General Manager Bilal Topçu and important players of the entrepreneurial ecosystem attanded the opening ceremony of the center which received over 100 milion TL investment.
The new center is preparing to host groups of more than 250 entrepreneurs with high added value, contributing to the country's economy and focusing on opening up to the world from İstanbul. The center, which focuses on entrepreneurs in the field of deep technology, cyber security and health; will provide infrastructure and support to the startup ecosystem with its clean rooms, wet and dry laboratories, assembly workshop and cyber security laboratory. Cube Incubation, which will continue its work on the Deeptech.ist project in its new center; focuses on accelerating the business processes of entrepreneurs by moving its Boostcube offices to the new center. Cube Incubation, which prepares special programs for entrepreneurs from the idea stage to the level of globalization; in addition to the Ideacube, Campcube, Runcube and BİGGcube programs announced at the beginning of 2021, prepares to implement the Racecube program, which will prepare entrepreneurs to open up to the world at its new center. In the Deeptech.ist program, the Cube Incubation team, working on the Deep Grow, Deep Bloom, Deep Expand programs that will be included in the program according to the entrepreneurial level, is preparing to put Cybercube and Biocube programs into service in the future to serve entrepreneurs in vertical areas.
The new incubation center building offered by Technopark İstanbul to entrepreneurs consists of 4 floors. The cyber security laboratory located in the building where Turkey's first cyber security incubation center is located, and the assembly workshop for entrepreneurs making developments in touch with the industry, is expected to receive the Lead Gold certificate soon. In the center, which includes thematic incubation areas such as Biotechnology, 12 wet and dry laboratories and 8 clean rooms are expected to be operational in the near future. In addition to the biotechnology floor, where more than 25 million TL has been invested, entrepreneurs can benefit from seminar and meeting rooms free of charge. Supports such as wireless internet, printer, server room, AWS Activate, cloud services are also offered free of charge. Cube Incubation's team provides support to entrepreneurs in many areas such as investor, customer meetings, mentoring, consultancy work, notion and structuring business processes.
As the R&D base of the Turkish defense industry, Teknopark İstanbul, which critically handles cyber security and supports domestic and national products in cyber security technologies, also offers Turkey's first cyber security incubation center to the service of entrepreneurs in its new incubation building. Teknopark İstanbul, which is preparing to host more than 45 cyber security groups in this center, also offers critical infrastructure and support to entrepreneurs with its cyber security test center. The center also hosts Turkey's first cyber security vocational high school and cyber security cluster.
---