Companies that will 'fly Turkey' have been announced
---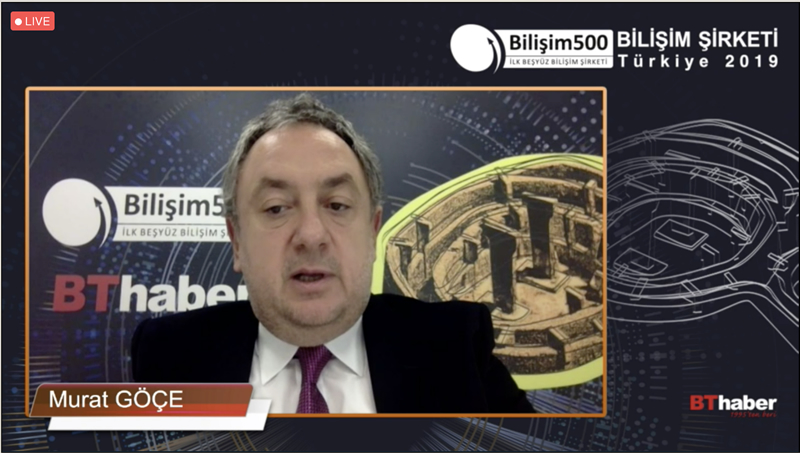 The results of Top 500 ICT Companies 2019 Research, that includes companies in Turkey's business world having an important role in development of information technologies and offer solutions in all areas, have been announced. Successful companies received their awards at the ICT 500 Ceremony, which also included different events. The ceremony, held in the digital environment, also served as an important platform for the development of entrepreneur-investor relations.
The only comprehensive research in the field of informatics in Turkey, "Top 500 ICT Companies Research" results ceremony was realized in a digital environment with stands, stand attendants, information areas and panels like the actual one. In the Investor Firms Panel, held before the award ceremony held on August 26, useful information was presented for companies wishing to invest. The panel was moderated by Corporate TV Founder, Journalist and Writer Volkan Akı and as speakers, there were GirişimTürk Angel Investment Fund Board Member Başak İlsulu, Turkven Private Equity Director E. Göktekin Dinçerler, Doğan Holding Vice President of Financial Affairs Dr. Murat Doğu and Vestel Ventures General Manager Metin Salt. Before the panel, a speech was given by İhsan Elgin, where the ecosystem of investor companies in our country and abroad was evaluated and recommendations were made for companies that wish to invest.
The development of the ICT sector and the contributions of the ICT 500 Research to this development were evaluated in the "Experts' Panel" held with the participation of İzi Kohen, Şahin Tulga and İbrahim Özer with the moderation of BTHABER Corporate Group President Murat Göçe.
Following the opening of the stands on www.b500toren.com, which will remain open until December 31, the award distribution ceremony of the ICT 500 started. Making the opening speech at this ceremony, BTHABER Corporate Group President Murat Göçe said: "As always, we started our ICT 500 journey with our advisory board this year. We have received valuable information and advice from our advisory board. In this direction, we transformed the ICT 500 into a market place where the stars of the informatics industry take the podium. ICT 500, emerging as a result of the joint efforts made by BTHaber Corporate Group companies BThaber, M2S and ICT Summit 500, is an important value for not just our sector, but also for Turkey. This is why BThaber ve ICT 500 should be embraced and supported."
Opening speeches of the "Turkey's Top 500 ICT Companies 2019" award ceremony were made by Presidency Digital Transformation Office President Dr. Ali Taha Koç, T.C. Deputy Minister of Transport and Infrastructure Dr. Ömer Fatih Sayan, T.C. Presidential Economic Policies Board Member Dr. Hakan Yurdakul and KoçSistem General Manager Mehmet Ali Akarca and Kuika and System Optima President Süreyya Ciliv.
ICT 500 Awards Ceremony guest speaker Kuika and System Optima President Süreyya Ciliv stated that: "The world of technology and business is changing. The new world offers incredible opportunities. Information flows into the cloud with computers, AR, VR, robots, machines, sensors, wearable computers. In the new world, there is communication everywhere with mobile broadband. Indeed, this environment offers great opportunities in the future and we experienced the development that would take 10 years in 4 months during the pandemic period. With 5G, this will go further and bring smarter systems with real-time optimization.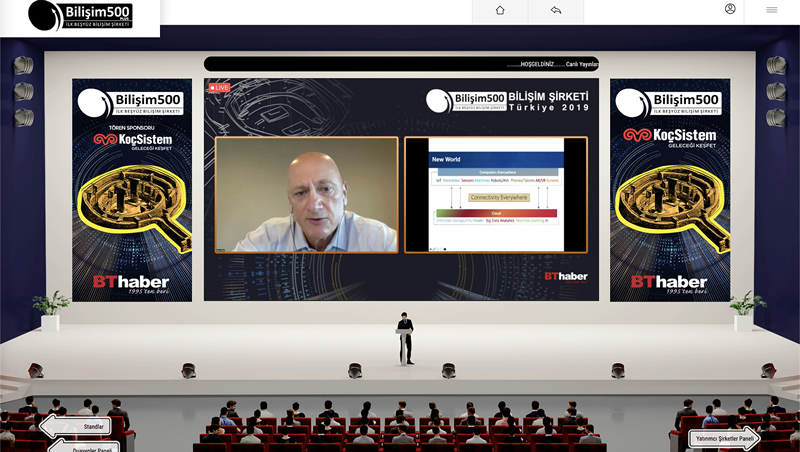 Those who moved their business to the digital environment with the developments in the pandemic period doubled their value. Technology users always go ahead. On the business side, technology should be used well, but the rules should also be followed. Customer focus is important to provide benefits and difference to the customer and if you do this well, you will have an incredible experience"
In his speech at the ICT 500 Awards Ceremony where KoçSistem being the "Digital Ceremony Sponsor", KoçSistem General Manager Mehmet Ali Akarca expressed that: "In this process we are going through, although we cannot be side by side today, what brought us together was our job "technology", which we contributed to its development. The global pandemic has shown that digitalization and the need for digitalization are now "at the core of our lives" for countries, institutions, business world and even individuals.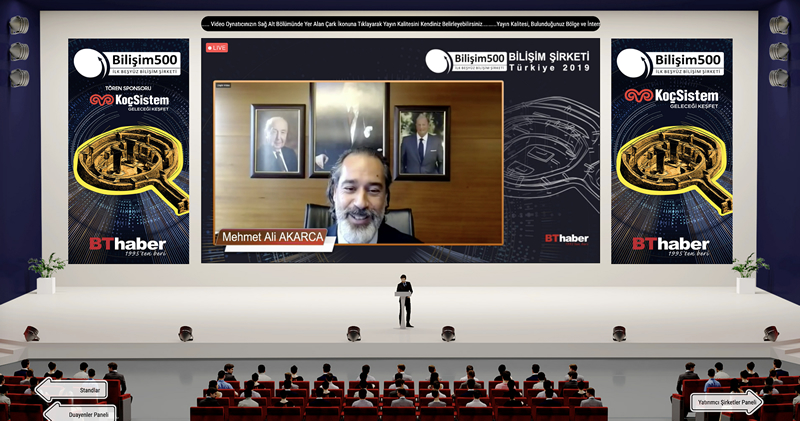 As the representatives of the sector, we proved once again that we create "value for people" with technology. Because now we know from our experience that; "If informatics stops, life stops."
In his speech, Presidency Economic Policies Board Member Dr. Hakan Yurdakul mentioned that: "This year, the pandemic has structurally changed the whole world and our perceptions. This is important for both the economy and the information sector. In this process, profitability, efficiency and more importantly, sustainability and safety have gained more value. With this change, self-sufficiency has become valuable. This once again showed us how precious the thing called localization is. The IT sector stood out as one of the sectors that can benefit from the increase in exports. Employment and R&D in the sector should increase with export. It is extremely valuable to get investment for this.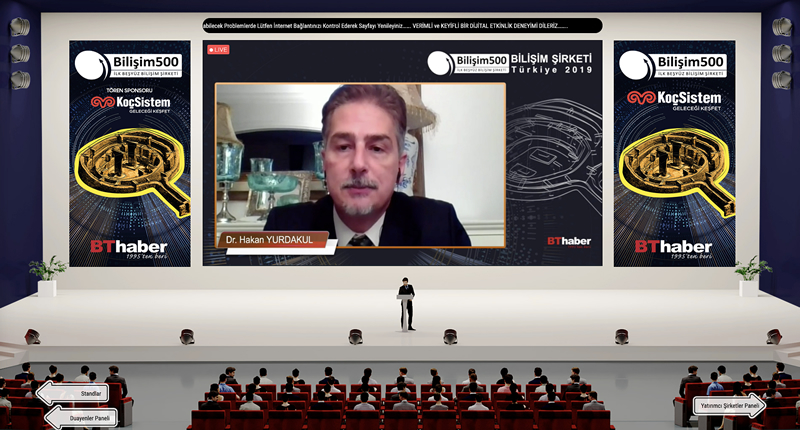 Our ICT companies have to offer integrated, lean but scaled technological solutions to their potential customers through strategic partnerships, acquisitions or mergers and they must be ready at all times by formulating their strategic plans in a reasonable and understandable way. Finally, they should follow the sector of their work globally in every sense. If necessary, they need to invest in information. It is necessary not only to get information but also to give. They should support studies that give information such as ICT 500 and be more generous than the existing ones in sharing their non-private information so that we can understand the sector."
Transportation and Infrastructure Deputy Minister Dr. Ömer Fatih Sayan stated that: "As the Ministry of Transport and Infrastructure, we are very proud of the achievements of IT companies. Turkey makes history with local and national technology in recent years. There is a point I would like to underline for potential investors who are active in the field of informatics and will enter this sector, and even for our young people who study in the field of informatics as a career choice. The growth statistics in the field of informatics around the world are approximately ten times the growth rates of the national economies. While the economic growth in the world has continued between 3.5 and 4% in recent years, this rate is approximately 4 to 5 in developing countries and around 22 in developed countries. As the Ministry, we attach great importance to investments in technology, digitalization and human resources and we conduct some researches in this context.

As a country, we carry out many studies for some components of our growth and development strategy. Within the framework of this vision, we primarily care about establishing an effective competitive environment, making technological products and infrastructure accessible at reasonable prices, supporting domestic production, developing cyber security capacity and creating added value through big data analytics, artificial intelligence and machine learning. We continue our work that we have been carrying out from the past to the present, targeting the supply and demand side needs of the sector on these issues."
In his speech, Presidency Digital Transformation Office President Dr. Ali Taha Koç said that: "Information technology expenditures are expected to decrease by an estimated 5.1% in 2020, by 2.25 trillion USD. Although a decrease is expected in the field of hardware, software and information services, a growth of 3.8% is estimated for infrastructure. This epidemic, which affects our lives, lifestyle and habits, reminded us once again how important the use of digital technologies together with the telecommunication infrastructure is and that it creates new opportunities to exit the crisis. In our day and age, the life cycle of companies depends on innovation and adaptation to innovative technologies. Otherwise, we cannot be competitive. In this respect, we are working with all our strength to exist as a force in tomorrow's competitive economy and to restructure a better and more resilient labor market in the digital transformation field. Our sector representatives, which take their place in different categories of the ICT 500 ranking, are the best example of this effort.
To become a country that not only consumes but also produces technology, we hit the road with the 'National Technology Move' slogan, we support the development of local and national technology. It is indispensable to develop domestic and national solutions in cyber security. In fact, we raise the bar one more level in this area and aim for "Global and National Solutions".

An era is beginning where powerful technologies gain importance for strong economies. The measures and the steps we will take today are very important for us to be a country that directs technology rather than follows technology in the competitive world of tomorrow. On this occasion, I emphasize that, as the Digital Transformation Office, we will be a supporter of every work to be done by our informatics sector in order for the digital economy to come to life quickly and congratulate all of our companies that are listed in the ICT 500."
According to the ICT 500 research in 2019, the total turnover of 500 companies reached 133 billion TL.
According to the information given by M2S Research and Marketing General Manager Özlem Unan, carrying out the research on behalf of BThaber, the total turnover of 500 companies reached 133 billion TL in ICT 500 of 2019. Among the companies where 25 companies grew above 100%, the highest growth rate was 344%. Compared to 2018, the total revenue of ICT 500 companies grew 11% on TL basis. 30% of the companies in the list where the revenues decreased by 6% in USD terms are in search of an investor. More than half of investors are looking for companies to manufacturer based in Turkey and 16 590 people are employed at the site. The total turnover of companies seeking investment has reached 5.8 billion TL. At the ceremony, "35 Years of Labor" awards were presented to Güngör Kaymak, Fethi Demir, Fikret Kavzak, Ali Suat Erduran, Süreyya Ciliv and Murat Kasaroğlu, who have worked in the IT sector for 35 years or more.
As every year, BThaber Newspaper prepared special awards this year. "BThaber Friendship Award" was presented to Tuncay Işık, "Woman Power in Technology Award" was delivered to Zehra Öney.
At the ceremony where each company competes in its own lane with its changing and developing category structure and a live connection was made to each of the 99 awards including 11 Distributor, 24 System Integrator and Partner, 12 International Manufacturer's Representative in Turkey, 27 Turkey Centered Manufacturer, 10 PLUS and 6 Contribution to Turkey's Economy and special awards.
---