---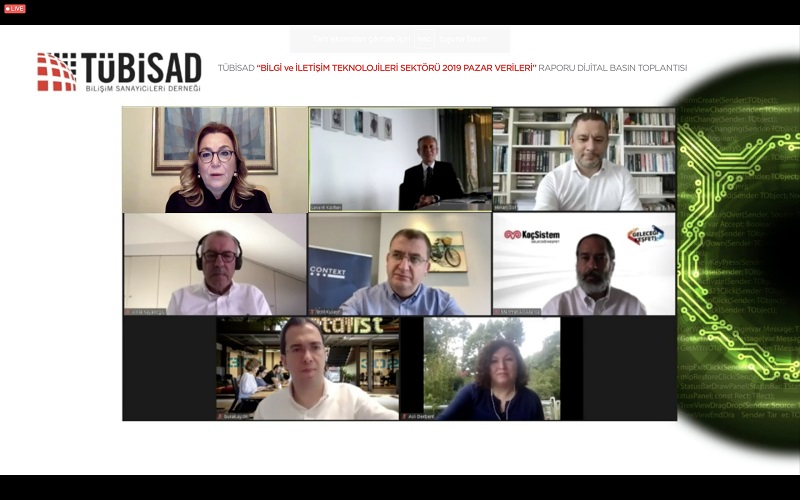 The Informatics Industry Association (TÜBİSAD) announced the "Information and Communication Technology Sector Market Data" of 2019 at a meeting held online.
According to the TÜBİSAD report, Turkey's IT sector size in 2019 was as the following: Information and Communication Technology sector reached a volume of 152.7 billion TL with 14% growth in 2019. Evaluated in USD terms, the sector size contracted by 3% compared to the previous year and was 26.8 billion USD. Information technologies, one of the two main factors that make up the total sector size, reached 56.1 billion TL in 2019 with a growth of 22% and communication technologies reached 96.6 billion TL with a growth of 11%. The sizes in the sub-categories of the information technologies sector are 20.4 billion TL in information technology hardware, 23.4 billion TL in software and 12.2 billion TL in service. Communication technologies sector has reached 96.6 billion TL in 2019. The distribution of sub-categories was 29.9 billion TL in hardware and 66.6 billion TL in communication technologies electronic communication.
While 81% of the services and 69% of the software produced in the information technology sector were of domestic origin, 83% of the information technology hardware and 84% of the communication technology hardware were imported. In 2019, the total employment level of the sector increased to 143 thousand people and employment increased by 4%. 77% of the sector's total employment is in the information technology category. While growth in technocities continued, the turnover created in technocities in 2019 increased by 43% compared to the previous year and reached 22.9 billion TL. In 2019, 14% of the total sector volume was created in technocities. While the sector's export performance increased by 27% in TL, it reached 6.5 billion TL in 2019, with an increase of 8% in USD in 2019, reaching a total of 1.1 billion USD. 75% of the total exports were to the European Union (EU) countries.
---